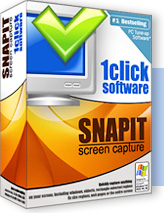 So much information on the web these days, never enough time to absorb it before our attention wanders off in a different direction. A good way to store articles, pictures or whatever captures your fancy is a screen capture program. Makes sense to me and I don't bother with writing things down with pen and paper. If you have MS Office OneNote you can do this by having OneNote running in the background, select it, then chose from the menu to Insert and then select Screen Clipping. It's good but its clunky. If you want something that's fast on the run and simple then maybe SnapIt is for you. Once installed, you have a few options such as which folder you want the files stored, which format you want the files saved be it Jpeg,Tiff, Png or Bmp. I think this is a feature targeted at those who are creative and want to put the images they capture through Photoshop manipulation.
SnapIt works very simply, you just click PrntScr button or any other hotkey you chose to nominate and then select the area to capture with your mouse, and bingo it's done.
Up till now I've only used MWSnap and although a good program (its freeware) it is clunky compared to SnapIt because you need to press Ctrl Shift and D to capture the screen. Now there are a lot of options in MW Snap but I can never remember the three key combinations so when I do capture images for example, I need to call them up and crop them. In SnapIt on the other hand it's one simple smooth procedure of pressing PrntScr button and selecting a rectangular area with the mouse and it's done. I would suggest that in the next version there are sound effects to indicate that a successful capture has been perfomed.
http://digeus.com/downloads/snapit/files/3/snapit_3_7.exe
BTW, any blogger willing to write a review of this product on their blog is eligible for a free copy from Digeus.